| | | |
| --- | --- | --- |
| | Review Fleshlight Vortex Texture - Test & Rating | |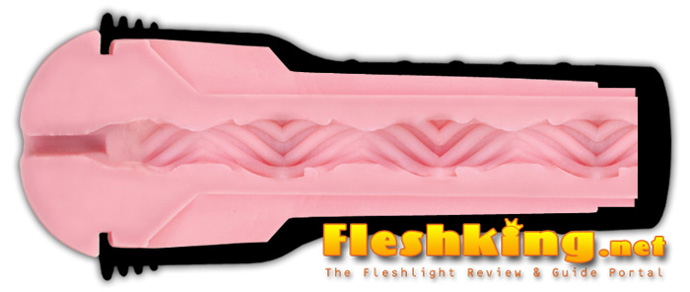 In autumn 2008 the Fleshlight manufacturer ILF released a limited version of the Alien Fleshlight (1st Version) for a limited period of time. This special model had an alien pussy as the canal opening as well as a special alien vagina texture called "Vortex" in the inside. Due to the limitation, the production of the Alien Fleshlight was discontinued. However, the new texture proved so popular with Fleshlight fans that the Vortex canal has been re-released with the Pink Lady, Pink Mouth, Pink Butt and Pink Cheeks orifices. Additionally, the Vortex texture is also available with (almost) all Fleshlight Girls EU pussy orifices.

Inside the Vortex insert are four large, long-stretched chambers that are 1.6 inches (40 mm) long with a diameter of 0.5 to 0.6 inches (16-18 mm). At the chamber entrance and exit, which are the tightest parts of the sleeve, the diameter is approx. 0.4 inches (12 mm). The canal surfaces are covered with a mesh of spirally-wound and zigzag-shaped ribs that form an impressive landscape of ridges and creases.


| | |
| --- | --- |
| | |
| Orifices: Pink Lady, Pink Mouth, Pink Butt | Vortex Fleshlight Canal Length |

The stimulation effect of the Vortex canal is incredibly pleasurable. The penis slides from one chamber to the next and is pleasurably stimulated by the increase and decrease of the canal counter pressure. In addition, you feel a fantastic enclosing sensation on your penis, which is created by the spiral ridges at the side walls that stimulates the shaft and head of the penis from all directions. This feeling is accompanied by a strong suction effect because the large chambers allow for the accumulation of plenty of vacuum inside the canal.

The ridges, creases and chambers require a relatively tedious clean up and you should briefly turn the insert inside out during the cleaning process. Due to the textural density, the drying time is also relatively long.


Conclusion:
With the Vortex Insert, the Fleshlight manufacturer has landed a big hit. The stimulation on the penis is extraordinarily great and produces, thanks to its spiral-shaped surface texture, an absolutely unique feeling. The strong suction effect tops it all off, thus making the Vortex Insert one of my top favorite Fleshlights.


| | | |
| --- | --- | --- |
| | Rating / Test Results | |
| | | | |
| --- | --- | --- | --- |
| Intensity | 7/10 | Realism | 9/10 |
| Stimulation | 9/10 | Variation | 7/10 |
| Penetration | 10/10 | Lube Use | 5/10 |
| Tightness | 7/10 | Cleanup | 5/10 |
| Suction Effect | 10/10 | Dry Time | 4/10 |

Overall Rating
8/10
Back to Overview: Fleshlight Original Textures