| | | |
| --- | --- | --- |
| | Review Fleshlight Girls Dragon Texture (Asa Akira) - Test & Rating | |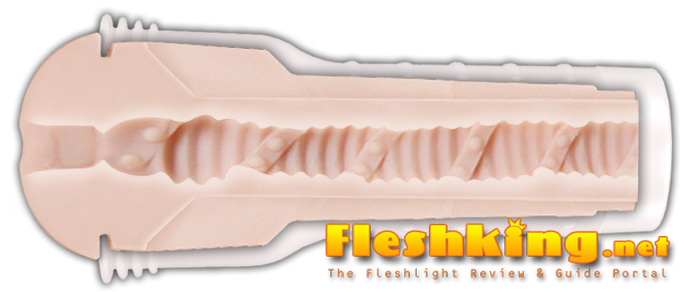 Like a Japanese dragon, a distinctive spiral rib winds throughout the inner canal of the Fleshlight of the erotic star Asa Akira and that's why it has been named "Dragon". That also fits perfectly with the Asian appearance of Asa Akira, who has Japanese roots. The Dragon canal is only available with the pussy orifice of Asa Akira and her personal and exclusive inner canal.

The relatively wide canal has a diameter of 0.5 to 0.7 inches (14-18 mm) and starts with a 0.8 inch long (20 mm) bell-shaped chamber which continues into the main canal. The surface of the main canal is covered with a continuous cross-rib texture which is formed by 0.1 inch (3 mm) wide ribs. In comparison with the Super Ribbed Insert, there is more space between the ribs but not as much as inside the Wonder Wave canal.

Above the ribbed canal texture runs the previously mentioned spiral rib, which is shaped like a flat, 0.3 inch (7 mm) wide strap and covered on the surface with hemispheric 0.15 inch (4 mm) bumps. A similar spiral rib has already been used inside the Twista insert but there the surface has no bumps. In addition, the distances between the rib coils of the Dragon insert are of equal length whereas with the Twista insert, these distances become increasingly shorter.

The spiral rib divides the canal into five chambers which are each 1.2 x 0.7 inches (30 x 18 mm). (The picture of the Dragon canal displayed on the manufacturer's website is not entirely accurate because there it looks as if the rear chambers have a wider diameter than the first chambers but in fact they are all of the same size.)


| | |
| --- | --- |
| | |
| Fleshlight Girls - Asa Akira Pussy | Dragon Fleshlight Canal Length |

In practice, the Dragon canal creates a very intense enveloping stimulation and you can feel how well the spiral rib noticeably winds along your penis shaft and penis head. The bumps on top of the spiral rib additionally intensify the effect and create numerous small stimulations concentrated at individual points along the "stimulation line". Because the spiral rib runs throughout the entire canal, it applies constant pressure on the penis surface and envelopes the penis from all sides once you have completely penetrated through the entire length of the canal. On the parts of the penis which are not effected by the spiral rib, the cross-rib texture of the canal walls has a gentle impact and creates a natural and smooth stimulation.

As a result of the enveloping of the penis by the spiral rib, a fantastic milking sensation emerges when sliding back and forth. In contrast to the Twista insert, the milking sensation does not increase the more you slide inside but rather feels more even no matter how deeply you penetrate the canal. For this reason, the milking sensation is not as intense as inside the Twista canal but you can last longer and therefore you have more time to enjoy it. Additionally, the bumps on top of the spiral rib and the cross-ribs of the canal walls provide more variety to the overall stimulation.

With a normal penis length (5.9 inches / 15 cm), all important canal textures are reachable and you can penetrate as deep as the third chamber. If your penis length allows you to penetrate through to the third chamber, the spiral rib winds three times around your penis shaft.

Because the spiral rib divides the Dragon canal into several chambers, there is plenty of space for vacuum accumulation. That results in an above-average strong suction effect which is especially noticeable on the backward movement and which additionally intensifies the enveloping and milking sensation of the texture.

The clean-up of the inner canal is comparatively easy with the Dragon insert. Although some sperm and lube residue remains between the ribs, it is quite easy to rinse out thanks to the relatively wide canal diameter. The drying time of the inner texture stays within limits, taking about 3-4 hours.


Conclusion:
The fantastic sensation of getting milked stands at the foreground of the Dragon insert, which is created by a distinctive spiral rib that winds around the penis from all sides and applies constant pressure on the surface of the penis. This pleasurable world of stimulation is enriched by numerous pointed and smooth stimulations caused by the bumps and the cross-rib texture and additionally intensified with a great suction effect. Overall, it is worth it to try "a ride on the Dragon" and it is especially recommended for fans of Asa Akira.


| | | |
| --- | --- | --- |
| | Rating / Test Results | |
| | | | |
| --- | --- | --- | --- |
| Intensity | 8/10 | Realism | 7/10 |
| Stimulation | 8/10 | Variation | 7/10 |
| Penetration | 7/10 | Lube Use | 6/10 |
| Tightness | 6/10 | Cleanup | 7/10 |
| Suction Effect | 8/10 | Dry Time | 8/10 |

Overall Rating
7/10
Back to Overview: Fleshlight Girls Textures