| | | |
| --- | --- | --- |
| | Review Fleshlight Girls Love Humps Texture (Teagan Presley) - Test & Rating | |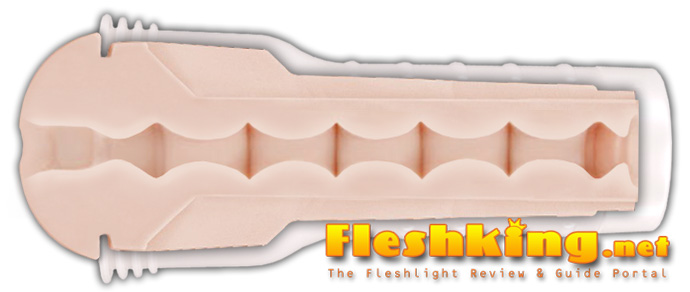 The Fleshlight Love Humps inner canal is comparatively slightly textured and is covered with a gentle wave texture with smooth side walls. A total of five waves 1.18 inches (30 mm) in width follow one after the other and the canal then narrows to a diameter of 0.4 inches (10 mm) at the tightest parts. The start and end points of each wave form a total of six rhombic-shaped chambers, each measuring 0.7 x 0.7 inches (18 mm x 18 mm).

The Fleshlight Love Humps insert is only available in combination with the pussy orifice of the porn star Teagan Presley and her personal and exclusive inner canal texture.


| | |
| --- | --- |
| | |
| Fleshlight Girls - Teagan Presley Pussy | Love Humps Fleshlight Canal Length |

The wide waves act as marvelous soft cushions, providing a pleasant and mildly intense, smooth stimulation. You glide inside the canal from one wave to the next, feeling the constant change of increasing and decreasing counter pressure of the canal side walls. The stimulation is quite similar to the Super Tight insert although much better because the tightness sensation is very rich in variety. All in all, it is a splendidly smooth stimulation that can last for a relatively long time and which feels, thanks to the untextured side walls, very realistic and like a natural vagina canal.

Lube can accumulate between the soft waves inside the rhombic-shaped chambers. If you warmed up the lube beforehand, you can notice its warmth particularly well in these parts. Furthermore, the lube becomes evenly spread inside the Love Humps canal texture and cannot ooze away into the rear part of the insert.

The suction effect ranks roughly in the mid-range because there is only limited space inside the canal for the accumulation of vacuum. However, the effect is sufficient enough and accompanies the stimulation with very pleasurable suction.

The cleaning of the smooth side walls is comparatively easy because sperm and lube residues can only gather inside the chambers. The canal also dries quickly, thanks to the low density of the texture.


Conclusion:
The Fleshlight Love Humps Insert provides wonderfully soft and smooth stimulation, which is accompanied by a variable tightness sensation brought about by the constantly changing canal diameter. The stimulation effect is mildly intense and therefore this texture is especially appealing to connoisseurs who want to enjoy their Fleshlight over a longer period of time. That said, the Love Humps Sleeve is also recommended for Fleshlight beginners and fans of realistic stimulations.


| | | |
| --- | --- | --- |
| | Rating / Test Results | |
| | | | |
| --- | --- | --- | --- |
| Intensity | 5/10 | Realism | 10/10 |
| Stimulation | 6/10 | Variation | 6/10 |
| Penetration | 6/10 | Lube Use | 8/10 |
| Tightness | 7/10 | Cleanup | 7/10 |
| Suction Effect | 6/10 | Dry Time | 7/10 |

Overall Rating
6/10
Back to Overview: Fleshlight Girls Textures