| | | |
| --- | --- | --- |
| | Review Fleshlight Original Texture - Test & Rating | |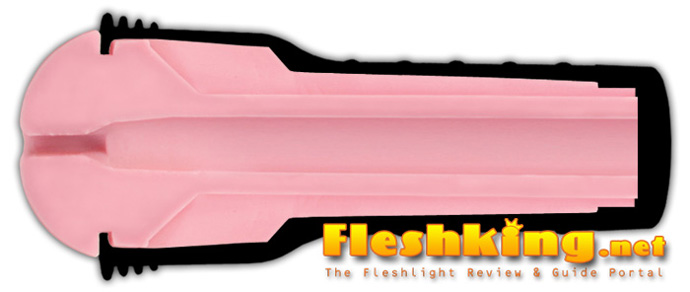 In comparison with the other Fleshlight inserts, the Original sleeve looks a little bit boring at the first glance because the inner canal is completely untextured and smooth. Don't be deceived because when the manufacturer ILF produced its first Fleshlights in 1998 thus revolutionizing the masturbator market, all of the inserts had this "Original" canal.

Just a few years later other inserts were developed, opening new worlds of stimulation with different canal diameters and unique textures. The new inner canals are not necessarily an improvement but rather an addition to or a variation of the feel of Fleshlight stimulation. Nevertheless, the rating of the Original canal is deliberately low in order to provide clearer and more effectual comparison with the other inserts.

The Original canal is available in combination with the Pink Lady (Pussy), Mouth, Butt and Cheeks orifices.


| | |
| --- | --- |
| | |
| Orifices: Pink Lady, Pink Mouth, Pink Butt | Original Texture Canal Length |

The feeling of masturbation is, then as now, fantastically pleasant and remarkably realistic in comparison with a real vaginal canal. The smooth canal walls generate continuous gentle stimulation, which you can enjoy for a relatively long time before ejaculating. The canal diameter of 0.75 inches (20 mm) provides an effective combination of material counter pressure and tightness and comes close to a real pussy. There is plenty of space inside the canal for vacuum accumulation, which brings about a pleasant suction effect after a while.

The cleaning of the Original insert is quick and easy thanks to its untextured walls. And thanks to the relatively wide diameter of the inner canal, the drying time is short as well.


Conclusion:
The Fleshlight Original insert is, despite the strong competition of the high textured inserts, a great choice for Fleshlight beginners who want to familiarize themselves with the Fleshlight masturbator. You can always purchase further inserts later and exchange them. In addition, for Fleshlight users who attach importance to realism, the "Original" texture is a good option because after all, what vagina has distinctive bumps or ribs?


| | | |
| --- | --- | --- |
| | Rating / Test Results | |
| | | | |
| --- | --- | --- | --- |
| Intensity | 1/10 | Realism | 7/10 |
| Stimulation | 2/10 | Variation | 1/10 |
| Penetration | 2/10 | Lube Use | 8/10 |
| Tightness | 1/10 | Cleanup | 10/10 |
| Suction Effect | 4/10 | Dry Time | 10/10 |

Overall Rating
3/10
Back to Overview: Fleshlight Original Textures