| | | |
| --- | --- | --- |
| | Review Fleshlight Super Ribbed Texture - Test & Rating | |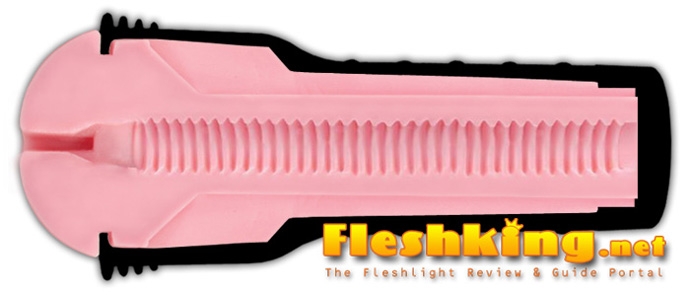 The texture inside the Fleshlight Super Ribbed Insert consists of many tiny circular ribs positioned very closely together, separated by 1/32 inch (1 mm) wide ridges. This dense texture extends throughout the entire canal of the insert. The canal diameter is about 0.5 to 0.6 inches (14-16 mm), equalling the inner diameter of the Super Tight insert. The Pink Lady, Pink Mouth, Pink Butt and Pink Cheeks orifices can combined with the Super Ribbed canal.


| | |
| --- | --- |
| | |
| Orifices: Pink Lady, Pink Mouth, Pink Butt | Super Ribbed Fleshlight Canal Length |

I can describe the stimulation effect of the Super Ribbed insert in a single word: INTENSE! The dense and consistent ribbed texture applies continuous stimulation to the penis and does not allow the penis head to come to rest for a single moment. The masturbation with this insert is a rather brief pleasure but you will be rewarded with a powerful orgasm. The suction effect of the Super Ribbed insert is of less importance and is only subtly noticeable.

Because the ridges inside the Super Ribbed canal are not very deep, clean up is easy. The drying time of the texture is reasonably short.


Conclusion:
The Super Ribbed Insert has a very intense stimulation effect, which is surpassed only by the Stamina Training Unit. For some users, the non-stop stimulation may be too intense but circumcised men, who have a less sensitive penis head, will be thoroughly delighted with the Super Ribbed canal.


| | | |
| --- | --- | --- |
| | Rating / Test Results | |
| | | | |
| --- | --- | --- | --- |
| Intensity | 10/10 | Realism | 4/10 |
| Stimulation | 9/10 | Variation | 4/10 |
| Penetration | 5/10 | Lube Use | 7/10 |
| Tightness | 3/10 | Cleanup | 8/10 |
| Suction Effect | 5/10 | Dry Time | 8/10 |

Overall Rating
6/10
Back to Overview: Fleshlight Original Textures