| | | |
| --- | --- | --- |
| | Fleshlight Freaks Review - Rating & Comparison | |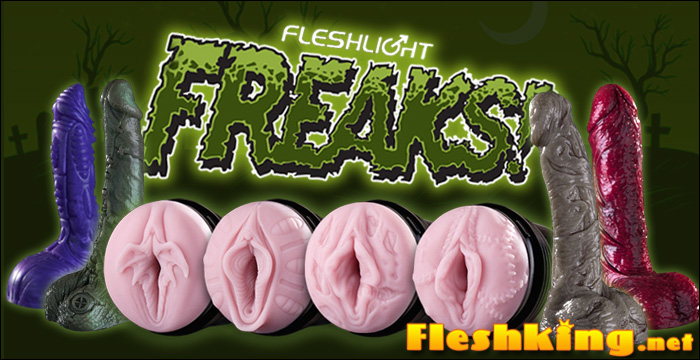 The Fleshlight Freaks product line is yet another fanciful creation from the Interactive Life Forms pussy factory. On Halloween 2011, the Fleshlight manufacturer released four inventive and "ghastly" Fleshlight models: a stitched pussy from the bride of Dr. Frankenstein, a freshly grave-risen zombie pussy, a blood-thirsty vampire pussy and last but not least, a cyborg pussy at the highest technical level.

These four Freak Fleshlights (along with the Fleshlight Alien) are by far the most exceptional masturbators I have ever seen on the sex toy market. I don't know of any other sex toy manufacturer which would dare to produce anything so completely outside the mainstream. Those who want an alternative to the common "high-gloss pussy" are therefore well served with the Fleshlight Freaks series. It is possible however that the number of the monstrous pussies is limited and production could be discontinued in a few months and so you should secure yours sooner rather than later.

The pictures below are of the four Fleshlight Freaks masturbators:


| | |
| --- | --- |
| | |
| Zombie Fleshlight (Cross-Rib Texture) | Frankenstein Fleshlight (Multi-Chamber Texture) |
| | |
| Cyborg Fleshlight (Multi-Chamber Texture) | Drac Fleshlight (Spiral-Rib Texture) |

Each Fleshlight Freak pussy orifice is available in combination with its own, newly designed inner canal texture. The Zombie Fleshlight has a tight cross-rib texture with a Lotus node, the Frankenstein Fleshlight has a multi-chamber texture with bumps, cross-ribs and also a Lotus-node, the Drac Fleshlight has a spiral-rib texture with plenty of big bumps and the Cyborg Fleshlight has a multi-chamber texture with lengthwise and crosswise ribs. Additionally, the Cyborg Fleshlight is also available in a Vibro version and can be brought to vibrate with the aid of three Fleshlight-Bullets.

Furthermore, thematically fitting dildos (made of platinum-cured silicone) for each pussy design have been released and can be additionally purchased if the girlfriend or wife also has a desire for something special. The dildos are available in four beautiful colors, which brings me to a rather sad point: Why are the inserts of the Freak Fleshlights are not colored in the same way? The "standard-pink" that is used is indeed okay but, in my opinion, the Fleshlight inserts would look much more unique and cooler if they had different and thematically fitting colors (like the Fleshlight Alien does).


| | | |
| --- | --- | --- |
| | Fleshlight Freaks inner textures | |
The following inner canal textures have been designed for the Fleshlight Freaks product series. The inner canals are respectively available only with a specific Freaks pussy opening.


Fleshlight Freaks - Zombie

Fleshlight Freaks - Frankenstein

Fleshlight Freaks - Cyborg

Fleshlight Freaks - Drac

| | | |
| --- | --- | --- |
| | Fleshlight Freaks product models overview | |