| | | |
| --- | --- | --- |
| | Review Fleshlight Girls Nipple Alley Texture (Riley Steele) - Test & Rating | |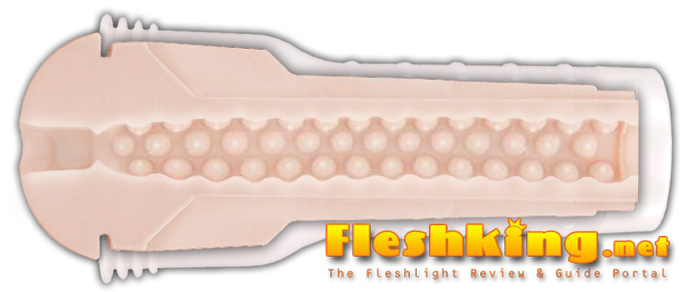 Inside the Nipple Alley canal is a texture of numerous medium-sized bumps, which cover the entire length of the inner canal surface. The bumps are not rounded at the tip but rather have an extra tiny bump at the top. The canal diameter is about 0.6 to 0.7 inches (16 - 18 mm) and is thus relatively wide.

The Fleshlight Nipple Alley inner texture is designed for the Fleshlight of the erotic model Riley Steele and is available only in combination with her pussy orifice.


| | |
| --- | --- |
| | |
| Fleshlight Girls - Riley Steele Pussy | Nipple Alley Fleshlight Canal Length |

The Nipple Alley Insert produces very strong pointed stimulation. The tiny bumps at the top of the big bumps concentrate the stimulation effect onto a small surface and they are therefore much more noticeable than the bumps inside the Speed Bump Insert. The pointed stimulation of each bump is multiplied by the total amount of bumps and that results in a unbelievably intense stimulation effect on every inch of the penis surface from all directions. In comparison to the Stamina Training Unit, the stimulation intensity of the Nipple Alley canal is a bit less and you can last longer inside it because the bumps are slightly shorter and there is more space between them.

There is plenty of space for vacuum accumulation inside the Nipple Alley canal and a noticeable amount of suction affects the penis after a while.

Some lube and sperm residues can collect between the bump interstices and therefore the clean up is a bit time-consuming. Because of the relatively wide canal diameter, the drying time of the Nipple Alley Insert is rather short.


Conclusion:
The Nipple Alley Insert proves its worth with its powerful and pointed stimulation effect, which makes an intense massage of the whole penis surface possible. The stimulation is more powerful than inside the Speed Bump Insert but not as intense as inside the Stamina Training Unit. This Fleshlight is recommended for those want a pure bump texture with an optimal combination of powerful and mildly intense point by point stimulations, moderate tightness and a good suction effect.


| | | |
| --- | --- | --- |
| | Rating / Test Results | |
| | | | |
| --- | --- | --- | --- |
| Intensity | 8/10 | Realism | 5/10 |
| Stimulation | 9/10 | Variation | 6/10 |
| Penetration | 7/10 | Lube Use | 7/10 |
| Tightness | 6/10 | Cleanup | 7/10 |
| Suction Effect | 7/10 | Dry Time | 6/10 |

Overall Rating
7/10
Back to Overview: Fleshlight Girls Textures